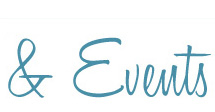 NEWS & APPEARANCES

Sat. June 2, 2018 @ 3:00 PM

All For Love Concert & Fundraiser
Bogart's Upstairs in the AMC Theaters at The Oaks Mall
166 W. Hillcrest Drive
Thousand Oaks, CA 91360
For more information call (805) 445-3535



AFLAR is having a VERY SPECIAL FUNDRAISER and it is our honor to invite you and your friends! We URGENTLY need to raise FUNDS for medical care and to continue our work rescuing dogs who are at high risk of being euthanized. We kindly ask you for your support in our life-saving work by sharing this email with your friends and family.

Click here to get your tickets now!
Please join us for an incredible and entertaining event!

With Gratitude,
Maripat Davis, President & Founder
All For Love Animal Rescue


SUE'S PAST EVENTS & APPEARANCES

Wed. July 12, 2017 @ 6:00 PM

Sunset Jazz at Newport
with the Ken Peplowski Quartet

Rose Garden Stage
Newport Beach Marriott Hotel
900 Newport Center Drive
Newport Beach, CA 92660
Phone: 949.759.5003

Together with Pianist Tom Ranier, bassist Mike Gurrola and drummer Kevin Kanner, this Grand Opening Night will bring together selections from the Great American Songbook as a fitting introduction to the stellar 11 weekly concerts.

December 2016 CD release
Christmas Lady
Buy now on amazon.com AND www.freshsoundrecords.com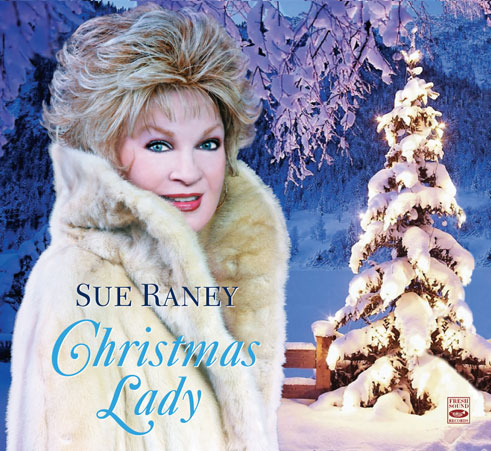 "I have always wanted to do a Christmas album, because it is my favorite time of year. I decided it should be a Traditional Christmas CD, filled with the songs that are familiar to us all, and that we only get to hear once a year.
I thank all of the superb musicians on this CD. Tom Ranier brought wonderful fresh ideas to the arrangements, and played piano beautifully, as he always does. I especially liked singing with the lovely harpist, Gayle Levant, and her arrangement of White Christmas. I was so fortunate to have Larry Koonse, Trey Henry and Dick Weller. They are outstanding, talented musicians, and added so much to this project.

So here's to another holiday season with songs we all know and love so well, and how happy it made me to sing them!"

— Sue Raney
Nov. 9, 2015

New Jersey Performing Arts Center
The Real Sinatra Songbook
A stellar cast of vocalists – Tom Wopat, Sue Raney and Kevin Mahogany, under the musical direction of Ken Peplowski – perform songs that might not even exist if it weren't for Frank Sinatra. This program in NJPAC's Sinatra Centennial series focuses on some of the greatest songs ever written – because they were inspired, commissioned, published and sometimes even composed by Sinatra. Classic tunes like "All the Way," "In the Wee Small Hours of the Morning" and "Empty Tables" played the way they were meant to be heard, with top vocalists and finger-snapping arrangements.
July 1, 2015

American Jazz Institute
Los Gatos, CA
Part of a Tribute to Frank Sinatra!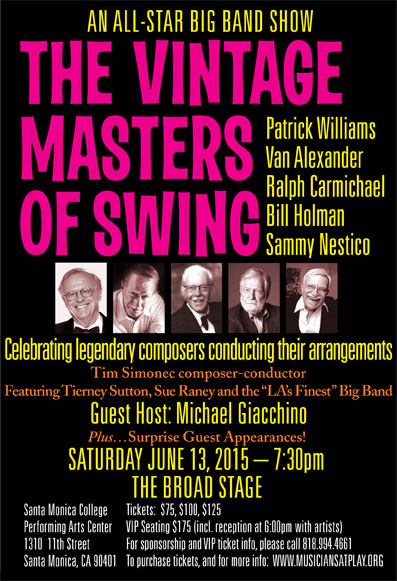 Sat. June 13, 2015 @ 7:30 PM

The Broad Stage
Santa Monica College
Performing Arts Center
1310 11th Street
Santa Monica, CA 90401
Phone: 818.994.4661

Celebrating legendary composers conducting their arrangements!

March 26, 2015
Catalina Jazz Club
6725 W. Sunset Blvd.
Hollywood, CA 90028
Phone: 323.466.2210

Premiering the Release of her CD Late In Life

November 20, 2014
Catalina Jazz Club
6725 W. Sunset Blvd.
Hollywood, CA 90028
Phone: 323.466.2210

Vintage Masters of Swing
Join legendary and multi Grammy and Academy award-winning composers Patrick Williams, Van Alexander, Ralph Carmichael, Bill Holman and Sammy Nestico as they conduct their arrangements Special guest performances by vocalists Sue Raney and Tierney Sutton. Guest soloists include studio and jazz legends Emil Richards, Plas Johnson, Gene Cipriano, Dick Nash, Bob Bain and The Elliot Deutsch Big Band. Two of Tim's compositions from the new film "Whiplash" will also be featured. More information at www.vintagemastersofswing.com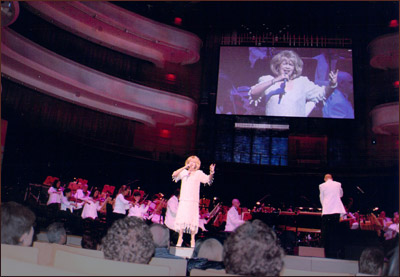 Sue Raney with the Pacific Symphony
April 4, 2014
CARMEL, CA
Doris Day's Birthday Celebration & Animal Foundation Fundraiser
March 29, 2014
"Hollywood Nights with the TJO", featuring Sue Raney
8:00 PM, Valentine Theatre
For more information, visit: The Toledo Jazz Orchestra
March 28, 2014
Music Hall Jazz Café
350 Madison
Detroit, MI 48226
(313) 887-8532
8:00 and 10:00 P.M. (2 - 75 minute sets)
Downtown Detroit (right across from the Detroit Athletic Club and Comerica Park where the Tigers play).
Here is the link to purchase tickets
February 21-22, 2014
American Federation of Musicians Western Conference
Sue will be performing at the 2014 Western Conference of AFM Locals, in Los Angeles, at the Sheraton Universal.
DECEMBER 30, 2013
Vitello's
4349 Tujunga Avenue
Studio City, CA 91604
Reservations: 818.769.0905
Sue will be performing with pianist Tom Ranier.
NOVEMBER 16, 2013
SPERDVAC Convention Music Panel
The Society To Preserve and Encourage Radio Drama,
Variety and Comedy
Sue will be a guest panalist, along with Doug McIntyre, Ed Ames, Van Alexander, Ray Charles, Jill Corey, Gogi Grant, and Lee Hale.
OCTOBER 25, 2013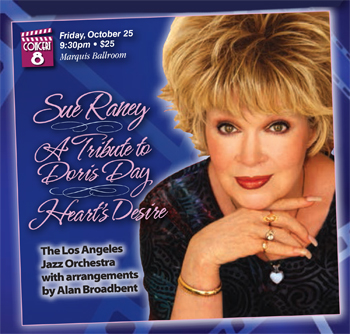 Sue Raney - A Tribute to Doris Day: Hearts Desire
Sue will be performing this special program with the Los Angeles Jazz Orchestra, with arrangements by Alan Broadbent. Part of the L.A. Jazz Institute's Fall Festival, "Jazz Themes from Hollywood: West Coast Jazz at the Movies." Los Angeles Jazz Orchestra.
Concert starts at 9:30 PM. Visit the LA Jazz Institute Website for more information and to order tickets.
JUNE 18, 2013

Sue Raney's long out-of-print single, 'Dodger Blue' b/w 'Van Lingle Mungo' is now available for download on all major sites, including iTunes and Amazon. The big band recording, arranged and conducted by Alan Broadbent, was originally for sale only at L.A.'s Dodger Stadium and was eventually inducted into the Cooperstown Museum. (Raney is married to former Chicago Cubs player Carmen Fanzone.)
Both sides of the baseball-themed recording were written by Dave Frishberg. These are two of the most charming and hummable melodies he has ever penned. Very droll, funny, swinging material.
JANUARY 17, 2013

Sue Raney is proud to be the recipient of the Bistro Award for Major Engagement of the Year in honor of her recent appearance at Feinstein's @ Loews Regency. Other winners can be found on the Bistro home page. Sue will traveling to Manhattan to accept the award at the Bistro ceremony to be held on March 4 at Gotham Comedy Club. With reviews like the the following that she just received from critic Don Heckman for her December 30th appearance at Vitello's in Studio City, CA, is it any wonder that she received this honor?:
"Sue Raney was at it again last night at Vitello's offering a pre-New Year's Eve seminar in jazz singing. And, yes, I know the word "seminar" has an academic inference that doesn't really capture the full quality of her performance. But there was no denying the effectiveness of Raney's demonstrations of how to bring a far-ranging variety of songs fully to life. . ."
Click here for complete review.
Feb 10, 3 pm, An Afternoon with Sue Raney
w/Tom Ranier Trio
The Living Desert (auspices American Jazz Institute)
47900 Portola Av
Palm Desert, CA
760-346-5694 ext. 2121 - tickets not sold at door
Feb. 14, Sue Raney (w/ The Singers' Songbook, i.e. Sue Raney, Kurt Reichenbach, Pinky Winters, Michael Dees and the Jim Cox Trio)
The Jazz Bakery @ The Kirk Douglas Theatre
9820 Washington, Bl
Culver City, CA
Bakery Phone: 310 275 8961
March 24, 3 pm, Sue Raney, Michael Dees, Cat Conner, Don Shelton: Frankie Laine 100th Birthday Celebration
The Living Desert (auspices American Jazz Institute)
47900 Portola Av
Palm Desert, CA
760-346-5694 ext. 2121 - tickets not sold at door
SUE RANEY DEC. APPEARANCES

Dec 30, 8 pm, w/ the Tom Ranier Trio
Vitello's
4349 Tujunga Avenue
Studio City, CA 91604
Phone: 818 769 0905
SUE RANEY IN NY—NOVEMBER, 2012

SUE RANEY AT FEINSTEIN'S AT LOEWS REGENCY
by Stephen Holden, New York Times, November 13, 2012

"Part Tribute, Part Torch, A Voice Goes All Out"
WHILE BEING SOOTHED and exhilarated by the voice of Sue Raney at Feinstein's Thursday evening, I was reminded that for certain singers there is no better description than the quaint euphemism "songbird." Ms. Raney, who was playing her first New York engagement in 25 years, may be 72, but her voice is young, her singing infused with hope. [more]
---
COSMIC CHARM: AFTER A 30-YEAR DROUGHT, SUE RAINS DOWN FROM THE SKY
by Red Reed

,

New York Observer,

November 14, 2012
"She was in better vocal control than ever, full of
intense feelings that were never
sabotaged by craft."
DESPITE THE SPATE of inclement weather, New York lit up like a shooting star last week in the presence of Sue Raney's luminous cabaret show at Feinstein's at Loews Regency. A singing legend in the circles where serious jazz aficionados gather, her radiance, taste and incredible musical savvy have been missing from the New York scene for three decades. She more than made up for the absence with vocal artistry that can only be described as out of this world. [more]

---
CULTURAL CONVERSATION WITH SUE RANEY

by Will Friedwald

,

Wall Street Journal,

November 5, 2012
"SO WHY IS IT that you haven't played New York in 25 years?" the singer Sue Raney is asked, and though the person asking is unabashedly a fan, the question is expressed in tones that are not reverential. It's at least partly a reprimand, as if an artist as sublimely talented as she is—and she is unquestionably one of the major jazz vocalists of the past 50 years—has done the world of music a disservice by remaining so firmly entrenched in her adopted home of Los Angeles. When Ms. Raney does five shows this week at Feinstein's at the Loews Regency, it will be the first time, apart from a guest appearance at a 92nd Street Y concert last spring, that she's appeared on the East Coast since the 1980s. [more]

---
JAZZWAX INTERVIEW WITH SUE RANEY

by Marc Meyers,

jazzwax.com,

November 5, 2012
SUE RANEY is a direct link to America's golden age of pop and jazz singers. Yet she remains one of the most underrated female vocalists on the scene today. Sue has recorded exquisitely with every major arranger—Nelson Riddle, Billy May, Ralph Carmichael, Bill Holman, Bob Florence, Jack Marshall, Billy Byers and others. She also has been teamed with Buddy DeFranco, Page Cavanaugh, Shelly Manne, the Four Freshmen, Supersax and her husband, trumpter and flugelhornist Carmen Fanzone. [more]
NOVEMBER, 2012
SUE RANEY will be making her premier performance at fabled Feinstein's at the Regency with an engagement beginning Wednesday, November 7 and running through the following Saturday (10th). Shows begin nightly at 8 pm, with two performances on Saturday evening at 8 pm & 10:30 pm. Raney will be accompanied by a trio led by her long time colleague, jazz pianist Alan Broadbent. Part of the evenings' repertoire will be drawn from their last two albums together: Heart's Desire: A Tribute to Doris Day and Listen Here. This represents Raney's first Manhattan club engagement since 1985. For further information and ticket purchase, visit Feinstein's web site.
FEINSTEIN'S AT LOEWS REGENCY
540 Park Avenue (at 61st Street)
New York, NY 10021
(212) 339-4095

---
Friday, December 30
Sue Raney with the Tom Ranier Trio
Performing "Johnny Mandel and More"
At 8 pm—two sets (the second begins at 9:30).
Vitello's is located in Studio City, CA at 4349 Tujunga Ave.
Phone (818) 769-0905
Music charge $25.00 w/$13.00 food/drink charge.
---
Friday, March 9, 2012
University of Arizona
w/jazz band & orchestra
Details forthcoming
---
Saturday - Monday, June 2, 3, & 4, 2012
It's Magic: Nine Decades of Songs from Warner Bros.
YMHA Lyrics and Lyricists Series
Artistic Director, Rex Reed
other artists to be announced
Kaufmann Concert Hall, NYC
www.92y.org

NOVEMBER, 2012
Thursday - Saturday, November 10, 11, 12, 2011
Songs of WW II
Pacific Symphony Orchestra
cond. by Richard Kaufman
R&H Segerstrom Hall
Costa Mesa, CA
www.pacificsymphony.org
APRIL 8, 2011
SUE RANEY and Alan Broadbent will be making an appearance on Global Village on radio station KPFK-FM (90.7) at noon, Thursday April 21.They'll be interviewed by host John Schneider about their new CD Listen Here, their upcoming April 25 appearance at Vitello's in North Hollywood, CA, and the duo's participation in the forthcoming Japanese earthquake/tsunami relief jazz CD, From California With Love. You can listen over the air or streaming from the website www.kpfk.org.
MARCH 1, 2011
SUE RANEY and pianist Alan Broadbent's appearance at L.A.'s Vitello's has just been confirmed. Sue will perform her new CD with Broadbent, entitled Listen Here. One show only, Monday, April 25. The evening will also serve as a CD release party for the album. In addition to singing, Sue will also be signing and selling. The official release date for Listen Here is April 20.
FEBRUARY 3, 2011
Coming in April 2011: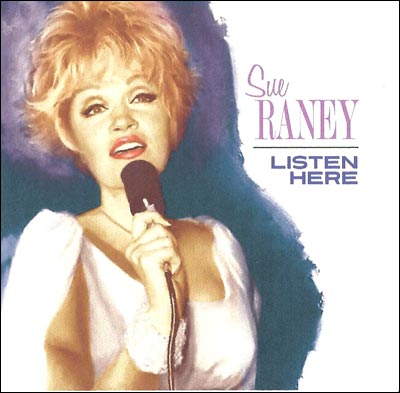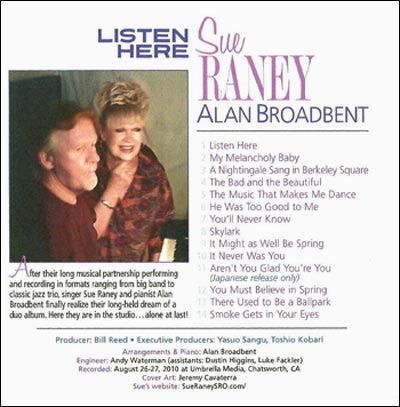 JANUARY 1, 2011
IT LOOKS LIKE it's going to be an exciting year for Sue Raney. She'll have a new CD out, Listen Here, with pianist Alan Broadbent, to be released in April. There will be a high profile CD release party (and performance) in L.A. to celebrate that event. In addition, there are talks under way for Sue to travel to Italy for a series of TV network variety show appearances. Also in development are plans for her to resume her "pops" concert schedule, such as her highly suecessul past appearances with The Florida Orchestra, The Dallas Symphony, and other such organizations. To top it all off, she's booked in 2012 (!) for a tour of Japan. Details on these and other goings-on will be appearing soon on this site.

OCTOBER 20, 2010
SUE RANEY will be appearing with the Nelson Riddle Orchestra, conducted by Chris Riddle, as part ofthe upcoming Los Angeles ]azz Institutes four-day (Oct. 21-24) A Jazz Tribute to Frank Sinata. Sue will be taking part in A Swingin' Session on Saturday, October 23 at 7:30 PM in the Marquis Ballroom at the L.A. Airport Marriott Hotel. Her very first recording for the Capitol record label was conducted and arranged by Nelson Riddle, who was also closely associated with the music and artistry of Sinatra. She also made many public appearances with the Riddle organization during its heyday.

OCTOBER 19, 2010
SueRaneySRO.com goes live!